Making bags is fun, but hearing how you love them is even better!
Here are the words of several past customers about Mimsi Bags: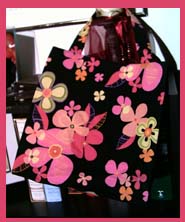 I am a busy Mom of two needing something to hold all of our necessities when 'out on the town'. The Charlotte tote purse has been a godsend for me! Whether I need to get my wallet, a toy, my cell phone or tissues, I can find everything easily and everything has it's place. The purse is sturdy, stylish and comfortable on my shoulder. It's a Mom's best friend — plus I love getting the compliments on how pretty it is too!"
Ann Hirano
---
I just wanted to drop you a quick note to let you know that I received my Marie handbag the other day and I LOVE it! It's so posh and it's the perfect size! It's small enough to be cute and not like lugging around a huge tote bag, but big enough to fit my wallet and all of my daily "essentials." Thanks so much for such a great purse! I'll be sure to keep some of your business cards on hand in the convenient pocket!
Alison Ginter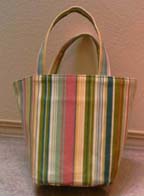 ---
I love my Tess bag because it is the perfect size for a quick trip to the store. I usually would use plastic or paper, but this is lot nicer because I started to get more plastic bags than I could use. The padding in the strap makes it even more comfortable to wear. I would highly suggest a shopping bag of either size from Mimsi!!
Tami Saez
Hi, Jennifer
Just a quick note to let you know that my bag arrived yesterday – love it !
Thanks so much
Kat
---
Hi Jennifer!
So we have great news! The bag has finally arrived! It arrived on Monday, March 31. AND! I absolutely LOVE IT! Its perfect and everything i hoped it would be!!!
Everyone else loves i too. Chris picked it up for me today and dropped it off at my work and he was even excited for me to open it. ha-ha. I think because I haven't stopped talking about it
It is perfect. Thank you so much for all your time and effort that you put into it! I love it and its great!
Thank you again!
Shannon
---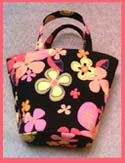 Hey there,
I adore my purse! Everyone does!!! I have handed out all of your cards, could you send me some more pretty please. I hate not being able to hand out your cards when I get the, "WOW! Where did you get that gorgeous purse?"
*Ü*
Julie Miller
http://www.LittleGirlsPearls.com/
~ Pearl jewelry for girls of all ages
---
Jennifer,
I received my Morgan and Rachel bags today. In all honesty, I am not one to "rave" about handbags (just ask any of my friends); however, I absolutely LOVE, LOVE, LOVE these bags!
They are both the perfect size to use together or separately…the Morgan allows enough room for my family planner, the Rachel bag (as my wallet), cell phone, keys, and some make-up essentials; as well as odds and ends. The Rachel, has more than enough room for everything minus my family planner. I love the idea that I can use the Rachel with the removable shoulder strap as well! The fabrics are wonderful and coordinate very nicely! I've even placed your business cards inside my bag to pass along – as I've already received a couple of "where did you get that purse" comments!
Thank you so much!
– Lisa Frederick
Dragonfly Design Studio
---
I loved the bag and its colorful material–just what I needed! I especially liked the tailored response to my order with awesome goodies and the warm appreciation of the purchase from Mimsi-Bags. Customer service is EXCELLENT! Really loved using the Charlotte bag!
Shannon
---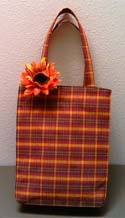 I am delighted with my handbag from Mimsi Bags! The fabric is very impressive, also pretty – a heavy durable material that maintains its integrity no matter how much I put into the bag. The inner lining coordinates well with the exterior and fits very nicely within the handbag with no puckering or too much give. The handles are also strong, and I like the way they are stitched along the edges so they will not come apart. Great fabric, great assembly, and very cute! I plan to order more.
To Your Success!
Karen Wilson-Dooley
*Karen also special ordered the Emily Tote Bag at the left, supplying her own fabric.
---
You are amazing! I mean, AMAZING!!!!!
Thank you so much for these beautiful bags.. and I just love the hot pad!!!!!
These are soo beautiful. And you padded the arms. And the cute little pockets. I absolutely love it. I was just telling my grocery lady today that I was getting a new bag! I can't wait to show her!!!!!! I can't wait to make my next order!!!
Hugs,
Anna Campbell
http://womenbizowners.org
I can't tell you how much I am enjoying my newest [Toshi] bag! The handles are so comfortable and padded, the nice flip over pocket inside is perfect! With all of the space, I just reach my arm in and I find everything I am looking for. I couldn't do this with any of my other purses or bags!
I use it as a purse now! I use my other bag for groceries!! You just can't have too many mimsi bags!!
Thank you,
Anna Campbell
---
I just wanted to let you know I got my bag and I love it! Thank you for the fabric upgrade and the cute change purse. 
I wish I had a picture to send you of me and my bag (especially since I wanted to enter the contest) but I don't have one just yet. I did, however, use it the very next day after I got it and I have been using it as my main bag ever since. 
Thank you again,
Amy Mathers
---
I just wanted to send you a note to say your bags are a big hit! I just went to a conference and took along the Pink and Lime Green Swirl bag. I hung it on the back of the door in the hotel. I had so many compliments on my combination toiletry/handbag. Everything I needed fit nicely into the pockets you made and gave a really smooth, chic look. I didn't have to dig around for anything and looked very stylish.
My niece liked her bag as well, though I might have ordered a style that was a little more sophisticated for a 13 year old. She was, though, very happy with having a small bag that carried her "important personal hygiene" materials in style. It allowed her to be outwardly stylish while at the same time giving her the "privacy" she needed for all the things young teenage girls need.
I will definitely be ordering more of these bags!
Thank you so much!
–Denise
---
If you would like to add your comments, please send an email to Baglady@MimsiBags.com and I will add it to this page. I love including photos of your purchase with your testimonial, so please send a photo of how you use it with your email!